La Fabuleuse Histoire D'un Royaume devient immersive
By Michael Raine with Hugo Larin
This article was originally written for and published in the October 2022 issue of Professional Sound magazine, www.professional-sound.com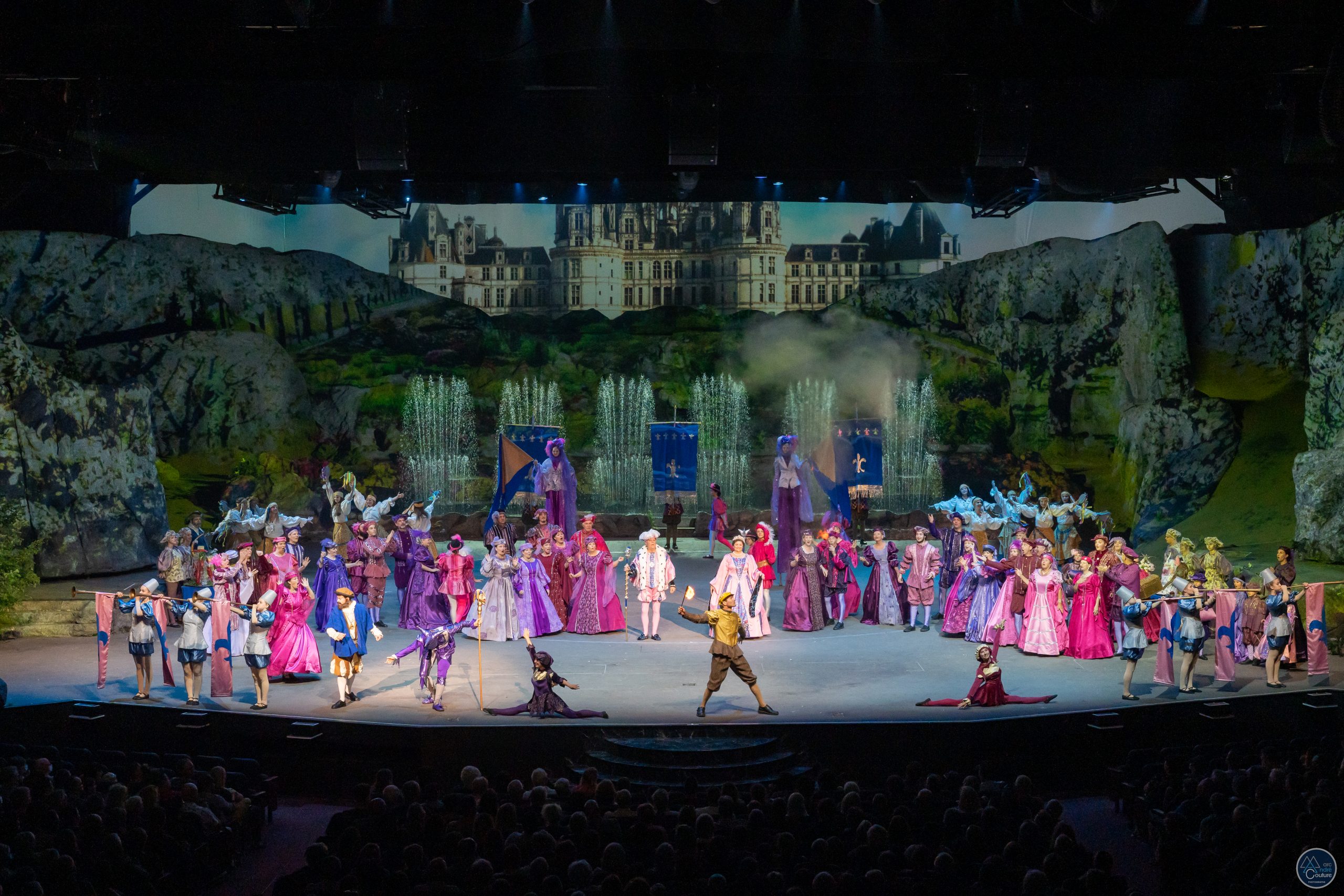 Mentions of community theatre and volunteer actors typically elicit images of charming but simple productions — DIY sets, minimal lighting, and dicey sound. That is, unless you're from Saguenay, QC. That is because there is really no other theatrical production like La Fabuleuse Histoire d'un Royaume, which translates as "The Fabulous History of a Kingdom." Held each year in the 2,300-seat Théâtre du Palais Municipal, this historical production tells the creation and evolution of the region. It's a mammoth production that goes all-out to wow the audience.
La Fabuleuse is billed as a show that tingles all your senses. Its massive cast of 150 volunteer actors (who each play up to 12 roles) is surrounded by an awe-inspiring visual and sound environment that features a scenic deployment rarely seen elsewhere, featuring horses, fire, water, cannon shots, and animals. All this is brought together so that the audience can witness the birth of Quebec's Saguenay–Lac-Saint-Jean region and discover its history, beginning with "Royaume du Saguenay" (the Kingdom of Saguenay), a mythical country that French-Breton maritime explorer Jacques Cartier tried to reach in 1535 on his second trip to "the new world." Over its 35-year run, La Fabuleuse has been seen by more than 1,300,000 spectators, which is staggering for an all-French theatre production outside of any major metropolitan area. But its reputation precedes it as a little slice of Broadway in Saguenay.
Now making a grand return after a two-year forced break because of the pandemic, La Fabuleuse's crew upped their game once again in 2022 with the introduction of an immersive audio system, which was delivered by LSM Ambiocréateurs, one of the most influential creators of scenic atmosphere in eastern Quebec.
For many years now, the sound of La Fabuleuse has been driven by Serge Lachance, the found- er and president of LSM Ambiocréateurs. His involvement with La Fabuleuse began 14 years ago when LSM became the technical equipment supplier (sound, lighting, video, rigging). Lachance then became intimately involved with the production seven years ago as the sound designer and FOH engineer, a position he continues to hold.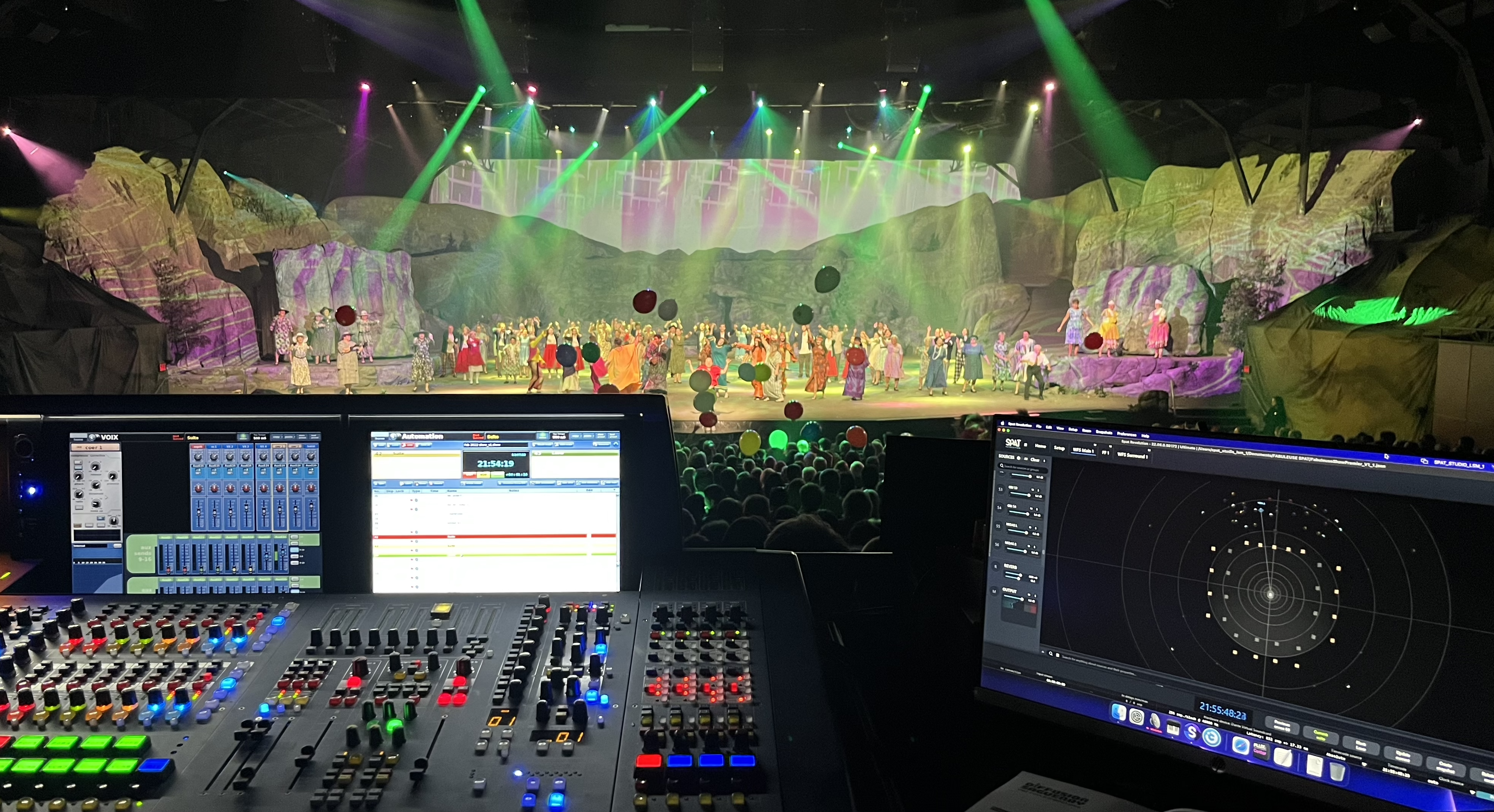 Since La Fabuleuse first began more than three decades ago, the production has continually grown, becoming grander in its ambition and more technologically advanced in order to keep audiences engaged and coming back year after year. The last significant upgrade, Lachance says, was in 2017 with the introduction of video projection across the 35-metre-wide set.
"The video completely changed the experience by transporting the viewer to an immersive setting that reproduces the history of the Saguenay over 150 years," he notes.
He explains that the soundtrack, both the music and the dialogue, was completely re- recorded ahead of the 2022 production. In part this was done because the actor died who provided the voice of the spirit that narrates the story. It's important to note that there are no microphones on stage, so all vocals in the show, whether spoken or sung, are recorded. But by recording all the vocal tracks for the show, the sound design possibilities are expanded.
"With the sound recordings dating back more than 30 years, it was impossible to match the sound experience with the visuals of this show. By respecting the texts of the author, Ghislain Bouchard, and the music of Dominic Laprise, we have completely redone the soundtrack of the show. With these new 196 tracks, the possibility of an immersive sound diffusion was made possible," Lachance adds.
Prior to this year, audio wise, La Fabuleuse was done using a basic 5.1 setup with left-centre-right speaker arrays, plus two in the rear, and mixed with the surround panner on the Midas PRO6 console (which is still being used). Playback was just 24 channels.
For 2022, that all changed thanks to the possibility of adding an immersive mixing engine and a new diffusion system.
"In 2019, the entire production team headed by Jimmy Doucet, the new show director, wondered what could bring La Fabuleuse to another level to celebrate its 35th anniversary. The complete renewal of the soundtrack and how it was diffused seemed obvious. From then on, a monumental work of analysis, meeting, collaboration, research, and then recordings, editing in the studio
and in the venue, assembly, calibration, and programming was put in place throughout these three years to achieve the result we know today," attests Production Director Marie-Eve Rivard. "Throughout this colossal process, the involvement of the original music composer, Mr. Dominic Laprise, as well as his son, Mathieu Laprise, who takes care of the recording studio, made it possible to preserve the soul of the original show and its creator, Ghislain Bouchard. This project would not have been possible without the professional and personal involvement of Serge Lachance, who led this renewal and redesign to its realization. We obviously can't forget the show producer, Diffusion Saguenay, who has taken the gamble of financing this great venture".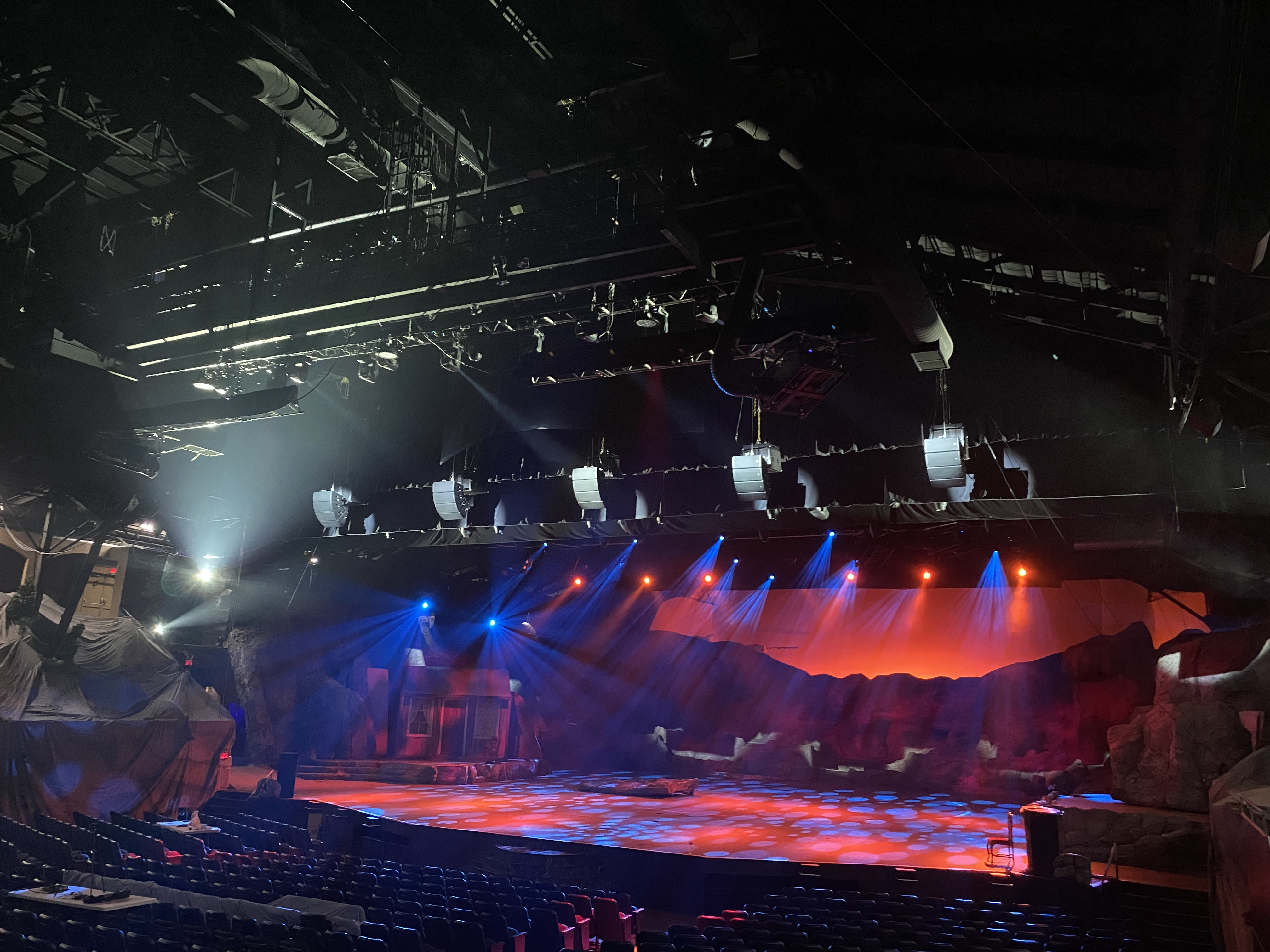 With the decision to create a more immersive sound environment, and a new sound design in place, Lachance ultimately leaned heavily on speakers and subs from German manufacturer CODA Audio.
"For several reasons I chose the manufacturer CODA Audio for the APS point-source three-way cabinets. With the CODA engineers, the configurations chosen for the theatre were five sets of four APS cabinets for the wavefront, five SCV-F bass enclosures suspended behind each set, 18 HOPS8s from CODA to cover the rear and side of the bleachers, a dozen CODA HOPS8s for the rear and side coverage of the floor, six HOPS5s for the front stage proximity speakers, and four infra SCP Series subwoofers from CODA for the extra bass. Also, 14 LINUS14s from CODA with Dante input cards are used to amplify the 65 loudspeakers," Lachance explains.
For the vocal, music, and sound effects, there are 200+ tracks in Logic on Mac Mini M1s. Lachance continues: "I use Klark Teknik bridges for the Dante versus AES-50 of the Midas PRO6 console; two SPAT Revolution immersive processors (for redundancy) on Mac Studio for the sound environment and for the WFS (wave field synthesis) reproduction; QLab is the show control solution for MIDI and OSC commands; a TC [Electronics Mastering] 6000 in AES on six channels for artistic reverb and voice effects; and an AuviTran AVBx7 as an AB matrix for the Dante and a CM Labs Sixty-Four [patchbay] for the monitor and LTC routing. The switches are mainly Luminex."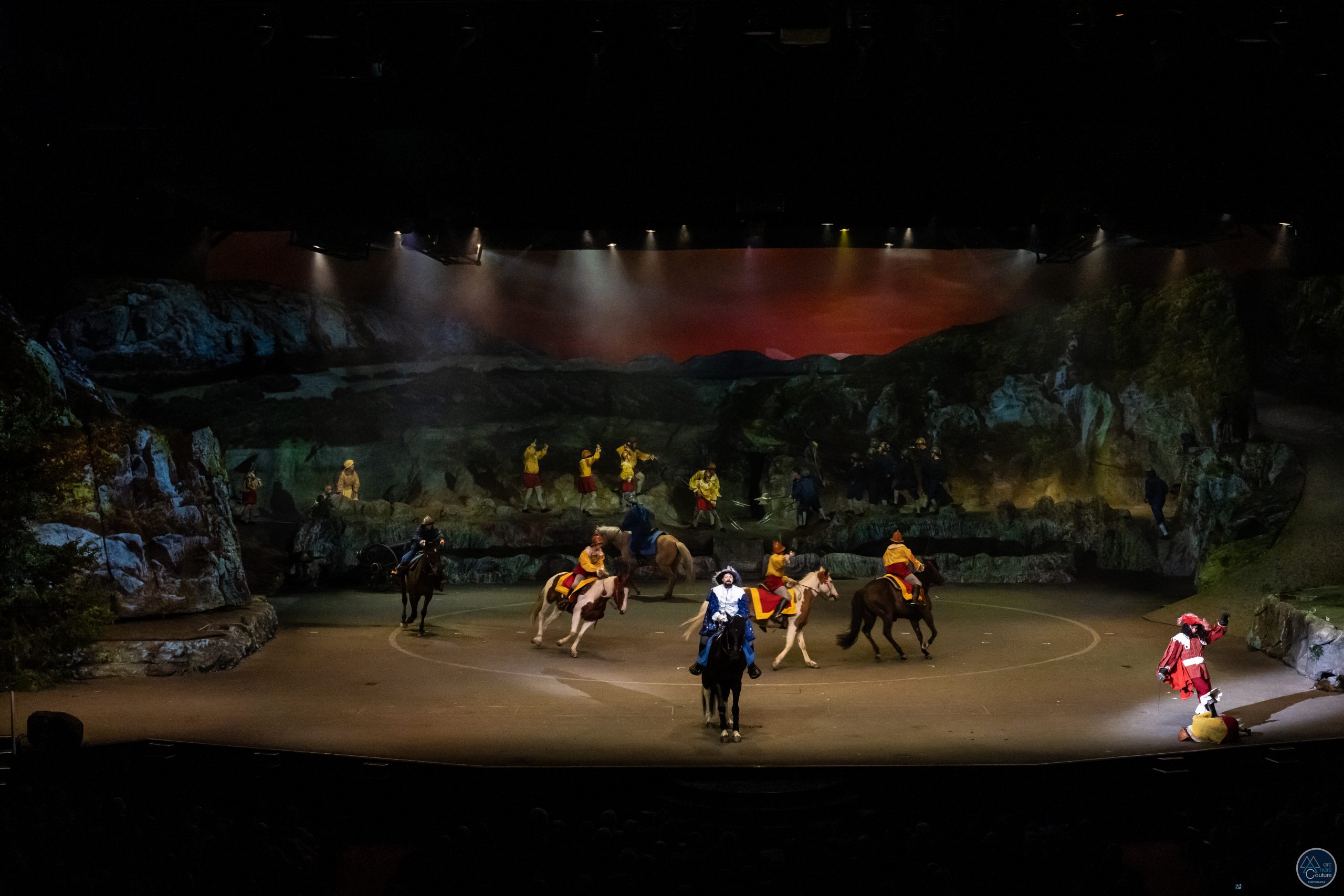 Using CODA Audio speakers and subs was a bit of a happy accident for Lachance and his team. He admits that CODA speakers were not his first choice for the production, largely because he was unfamiliar with the brand, but supply chain issues wreaked havoc on his original plans.
"At a certain point, some manufacturers became nervous about the delivery, so CODA became the company that could come to the table and deliver," Lachance tells Professional Sound (with Hugo Larin acting as our French-English interrupter over Zoom, as well as the translator of written responses for all interviewees). He learned that a CODA rig had been used on tours with Corey Hart and others, and heard good things about the German-designed speakers.
With timing becoming a big issue, Lachance decided to give the company a chance and, as he says, "found that for the size of the box, there was a lot of output. It offered solid rigging and construction and they had their control system together. They could deliver a complete package that works. The efficiency of their subs is really amazing. We had only four sub modules for this big theatre; what we call the 'infra,' so the extremely low frequency. We have flown low-frequency modules with each of the main five clusters, which is an important part of the sound design for the immersive diffusion system. So, these subs are amazing and to have only four for a 2,300- seat theatre, they really move a lot of air."
Now, even though CODA was able to deliver sooner than most amidst a global supply chain crisis, that does not mean everything was stress-free. The design was complete and Lachance was ready to decide on the speakers and place an order by the end of 2021, with plans of receiving the boxes in March or April 2022. Ultimately, though, the speakers were delivered on June 16th, just three weeks before doors opened. The support and on-site visit from Arif Nathu and Bradley Fox from CODA's distributor, SC Media Canada, assured that all would go as planned
"It was a huge challenge, but we pulled it off. It was luck and hard work and good planning from everyone. We had a guy with lots of experience on these types of shows, Marc-André Gilbert, who was involved with project managing, wiring, and preparing everything. He was critical to the equation. But it was two months of stress with no PA to work on," Lachance attests.
Helping to hone and place the sound coming through the speakers is the SPAT Revolution immersive audio mixing software from FLUX:: Immersive. The audio and production teams' first tests with SPAT on La Fabuleuse were done in the summer of 2021. That year, a much smaller, COVID-safe version of the show was staged outdoors. In effect, it was four 15-minute shows to about 400 to 500 spectators, who would rotate from scene to scene in groups. For that, a 5.1 sound mix was done in SPAT, but the true immersive redesign took place this year.
"The show created in 2021 allowed us to hear these possibilities and to prepare the work for the summer of 2022," says Rivard. "One of the greatest satisfactions is the intelligibility of the new system, which allows anyone to hear the show well, everywhere in the room and to localize the characters moving on this huge stage."
Lachance agrees, saying that better placement of objects and voices in the sound field has had a dramatically positive effect on the show and how the audience experiences it.
"The main thing is intelligibility. La Fabuleuse is a story and you've got to be listening to what's going on, and there is a lot of vocals. There is the spirit voice that delivers the story all the time, and then you've got the actors that are coming into play. There are so many actors and voices, so as you can imagine, with the limited resolution of a stereo or L-C-R system, you can rapidly lose that intelligibility when you cramb all this content together. If you make the choice of putting in more music elements to drive your audience, you stand the chance of losing intelligibility too. Sometimes there's a compromise there, because you need the music to drive the dance and drive the audience. So, intelligibility and being able to get that localization, that was definitely the most critical factor," Lachance says. "There are also scenes of the show where there's a war and people are flying by and they're falling from the ceiling and there's pyro, and there's a chopper flying over, and now the audio is following all of that. So, it's just not the same show on a 5.1 with all its limitations."
To help make this new design idea a reality, FLUX:: Immersive was contracted to provide the various services needed. Hugo Larin, the Quebec-based business director at FLUX::, was deployed to support the production design and help implement the immersive audio design, from the use of the SPAT Revolution software engine to show control/network integration and system calibration.
"La Fabuleuse presented a great challenge, but at the same time, the perfect example of how an immersive deployment could work, even with this 35-metre-wide stage. The goal was to provide strong localization and a sense of depth in the audio mix and our Wave Field Synthesis implementation in SPAT Revolution did exactly this," Larin asserts. "With an extremely tight schedule due to supply issues, the time left to do the integration and to actually mix these 200-plus tracks on 64 audio objects was quite short. That being said, I was quite impressed with the work of Serge and how he pulled together a mix quite rapidly. Now, the production has a system that they can keep building on as they develop the immersive audio mix."
For Lachance, there were so many new elements that took getting used to. The speakers were new, the software was new, and even the entire philosophy of how the show should sound was new. And while he knew the content of the show inside and out, even the recordings were all new.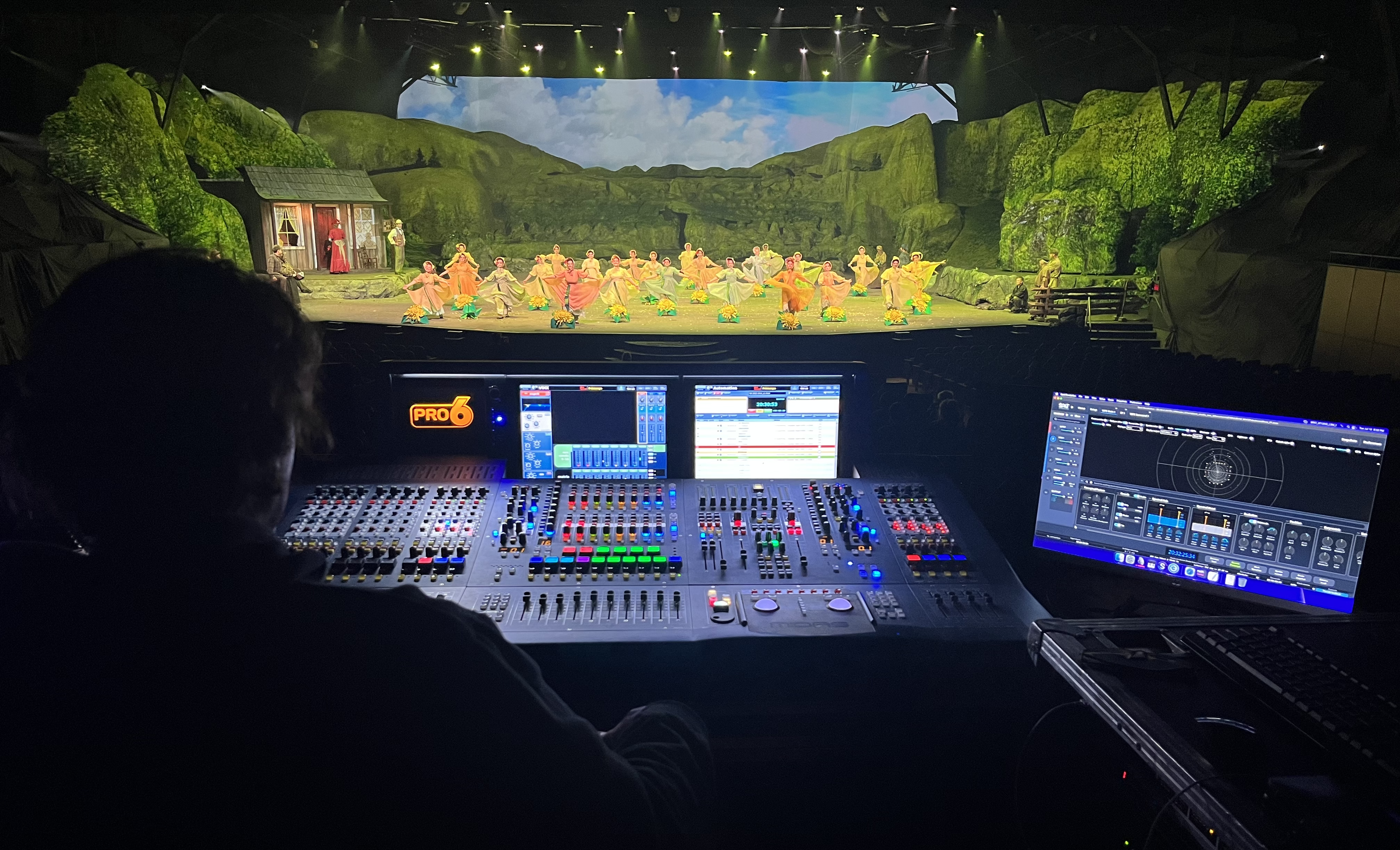 "There were so many new things in the equation, so you lose your point of reference. Like, if it's the same track as last year, you can compare how it sounds. But there were so many new things, and that included under- standing speaker positioning and spacing and the WFS," Lachance says.
"Serge got deeply involved in all the elements, but the more he was explained what was going on, the more he was saying, 'Okay, I no longer have a reference,'" adds Larin. "He was working in the dark in some ways. Like, 'that sounds okay but will the magic happen when I've got 2,300 people and it's loud?' So, there were just so many things, like the spatial processing and WFS, obviously the reproduction technique is not the same and it doesn't sound the same, so you have to adjust. It's not a question of is it good or better, you're just used to being in the sweet spot and listening to two speakers arriving at the same time, but now that's not the case. Now you've got five line-array elements in the venue that are all collaborating together to represent the soundscape being mixed. So, obviously all his references were gone. So, it took some time and he was questioning himself through a lot in the process."
As such, Lachance says it took about 10 shows to fully wrap his mind and ears around the new sound, and was seeking feedback from crew and audience members after
those early performances. But after those first 10 shows, a surprising thing happened: he found himself not only listening to the show differently, but hearing his entire environment in a new way.
"Funny enough, I had times with Serge outside of the show where we were sitting and talking and he was listening to his environment, like the birds. We were talking outside and he was being bothered by birds. Mixing this way opened his ears so much to listening to new things. He became more sensitive to his surroundings. Now, he is mixing with a better sense of the surroundings of the show, such as when there's birds in the show. He knows how to place those because he relates more to how they are in life," says Larin, speaking both from his own experience interacting with him and translating Lachance's responses during our conversation. "His conclusion is, once you've opened your brain to this, when you're thinking about show production, you're thinking about immersive and there is just no coming back. You don't want to be coming back. And he's now involved with two or three other productions and he's thinking about WFS for reproduction techniques and about content in 360 degrees. That is a powerful way to transport an audience."
Thank you to Michael Raine and Hugo Larin for allowing us to share this story!