Victoria Park leads the way in projection mapping in calgary with the g100 from barco
February 16, 2022 (Calgary, AB) – Victoria Park, in the heart of downtown Calgary is now the new home to 3 Barco G100-W22 projectors.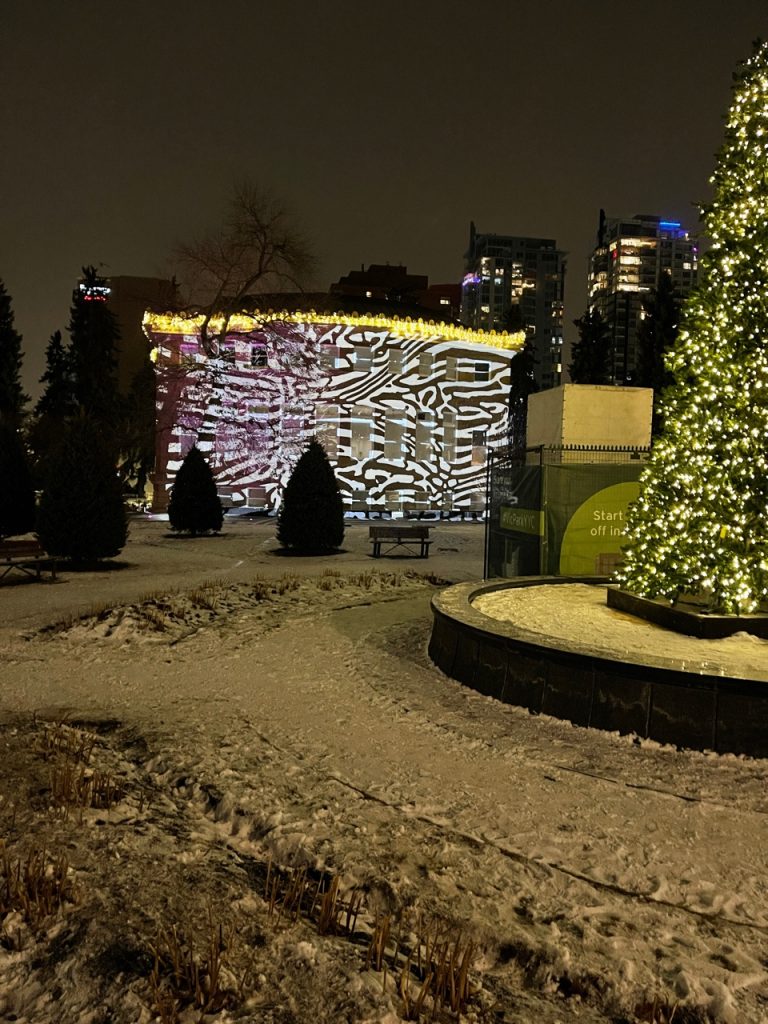 When the Victoria Park BIA team wanted to step into the world of projection mapping for the city of Calgary, AB, Barco was the direction they steered.
In order to get started, David Low (Executive Director, Victoria Park BIA) was given the mandate of placemaking. "Basically, they ask me how we make an area interesting, and then I go try to make it happen". With a strong background in lighting, David has long used lighting to create additional interest in the urban core. "We actually own and control the longest wirelessly controlled lighting system in Canada, which we pioneered".
Projection Mapping is an established concept worldwide, but up until this point was lacking in Calgary. "We got really frustrated that no one was doing projection mapping in Calgary – everyone else in the world does it, but why not us?" David notes that his goal now, is to be the middle link between "artists, technology and opportunity." David and his team also expect to see a national/international projection mapping festival in Calgary in the next 2 years.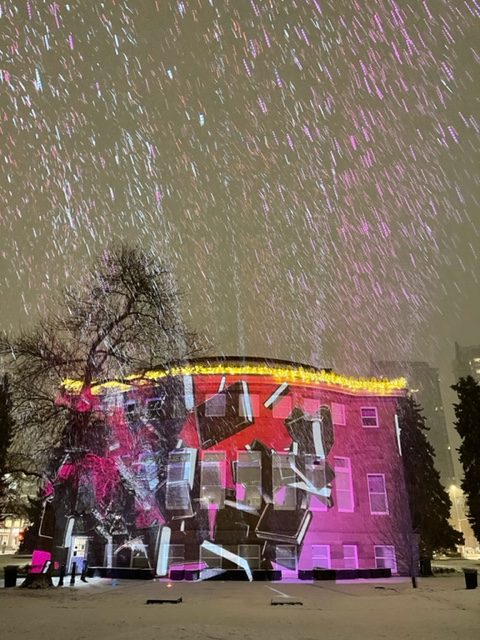 When it came down to picking a product, David had hoped to be able to use something like the G100. "It is the holy grail for me, when it comes to big projectors. At that size it is always about power and price". The entire package of price and power output are what attracted David and his team to the G100-W22 from Barco. "When we found out that I could just plug these into a wall, we didn't believe it at first. We were sent the demo, we ran it off an EU2000 and were just like WOW, that is pretty amazing!"
In terms of application, the G100 is giving David the flexibility to curate. With the nature of his work, there are a lot of unknowns in the deployment of product. "I don't know for sure what install opportunities I will have. Right now, our projector is sitting on a 5m tower, shooting outside a library. And that will set the record for longest projector install ever in Calgary". With the G100-W22 on hand, the team at Victoria Park will be able to create whatever they please. "I want to marry artist and opportunity," says David, "and spec it out for the largest range of opportunities possible."
The general impressions on the product have been exceedingly strong. "Everyone comes by and asks to know what that is (referring to the G100), and they are blown away to find that it truly is 22,000 lumens." On performance, David notes that, "The image quality and brightness is stunning."
Jennifer Orton from AVI-SPL played an instrumental role in the project. "She was a rockstar", says David. 
In terms of customer service, David was pleasantly surprised. "When dealing with a giant manufacturer, you don't really expect great support. The customer service on my projects with SC Media and Barco has been great."